Writer Miia Lammi
Manufacturing companies vary in their interest and needs for research, development and innovation services. Therefore, they need different types of services in terms of expertise and collaboration.
In Ecolabnetproject, we generated service ideas through analytical and creative service design process. User personas created for manufacturing SMEs, guided and inspired idea generation.
First ideas were created together with Ecolabnet partners. Muova organised a group work for partners, and core messages and support activities were ideated for different user personas. Muova continued developing ideas by including the type of collaboration activity and expert services to the service descriptions. The most potential SME user groups and intermediary organisations as collaboration partners were connected to each service idea. Next, we describe the results of service design process.
Communication and support to SMEs
RDI organisations need to approach SMEs with multiple ways. Eco-developers can be encouraged to start collaboration and Eco-opportunists to establish broader collaboration. Some companies need assurance and confidence to invest time and money in eco-innovation. Communication needs to be inline with the needs of the companies in order to get SMEs' attention.
The collaboration activities need to be adapted to different target groups. Multitasking companies need prioritization of development activities as well as managing and resourcing the activities in order to minimize risks of innovation. More hesitant companies benefit from real life cases with calculations and evaluation of the impact of innovation. They also need support when taking the first small steps in eco-innovation. On the other hand, more eco-driven company can use services related to finding new markets or scaling up the solution.
All companies can use special expertise for solving the problems related to lifecycle of eco-innovation: functional bio-based materials, knowledge about customers and markets, desirable product and service concept, more ecological production such as 3D printing, attractive branding as well as effective distribution channel and logistics. Since the field of eco-innovation is developing fast, all companies benefit from information and networking. However, they are especially important for those, who are in the early stages of eco-innovation.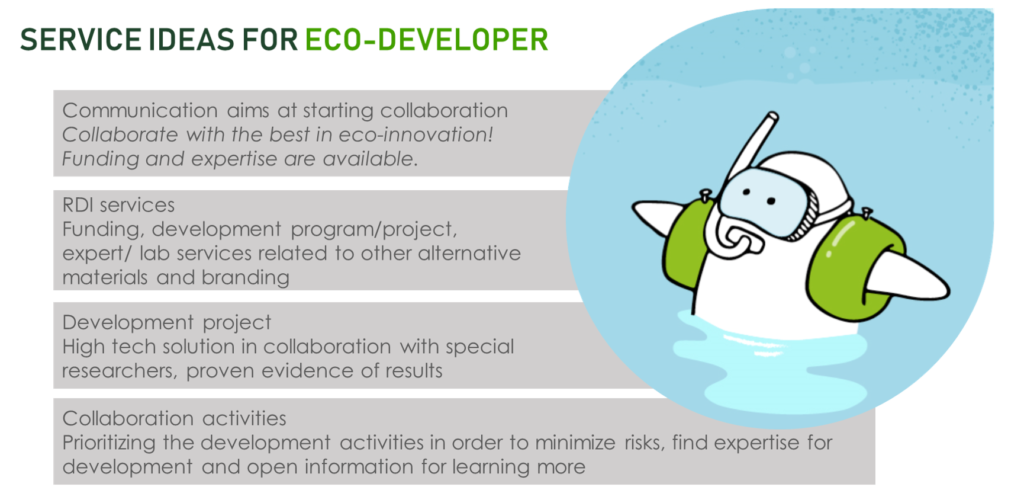 Collaboration between RDI actors and intermediary organisations
Eco-innovation experts do not need to work alone to fulfil the needs of the manufacturing SMEs. Intermediary organisations can play an important role in the service system of eco-innovation expertise. For example, Promoters (link) have a network of business experts, which support companies in commercialisation and branding of new innovations.
Information and networking services can be provided together with Networkers (link). They can offer information about funding, legislation, and real-life business cases as well as connect SMEs with business and RDI actors and enable learning from others. Project planning services can concretise the collaboration into action.
Legal services are extremely important in eco-innovation. There are experts in standards and certificates as well as country and industry specific legislation, who need to be connected with SMEs. Dealers (link) have access to national and EU legislation which is relevant on domestic business but especially in the case of internationalisation. Political will can be seen in public funding, but it also provides information on where societies are evolving.

Right expertise available
The need for special expertise can be related to operational or strategic development of business. Marketing and graphic services include, for example, creation of market and customer understanding as well as branding eco-innovation. Business and strategy services cover eco-innovation strategy, competence development, commercialisation of new solution, ROI calculations and even systemic innovation.
Product development services establish and manage product development project and integrate suitable expertise to the development in order to create new solutions. Innovation management services reach even broader requiring effective project management for different eco-innovation strategies in order to reduce costs and resources, create joint solutions or life-cycle services.
It is evident, that small and medium sized companies need support and expertise in their eco-innovation activities. That requires RDI services which have suitable timing, scope, expertise and the role of a service provider. The RDI actors need to operate in a customer-oriented way in order to facilitate the smooth transfer of competences and expertise to businesses.